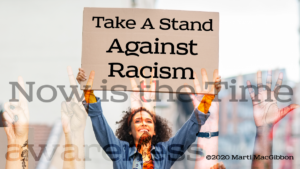 I stand against racism, and I stand with the peaceful protesters demanding an end to the systemic violence and racism which we've witnessed most recently in the death of Mr. George Floyd at the hands of police in Minneapolis. And this oppression and cruelty has flourished for over four centuries in America. Black people get killed in broad daylight, and where is the justice? We cannot continue like this. As a white person, I know that it's my responsibility to speak out against racism, stand against, it — each and every day. Having been knocked down many times in life, I've learned to stand up — and I've learned the power of standing strong against violence, oppression, and inequality. For a decade or more, I worked as a professional standup comic — literally stood up for a living. As a white woman, and a survivor of gender-based violence, human trafficking, and physical and sexual assault, I have advocated for victims and survivors, donated services, time, and money to non-profits that support and serve marginalized communities, people with substance use, traumatic stress, and mental health issues, and people who are unsheltered — people with experiences like mine. I realize that I can never really know what it's like to shoulder the tremendous burdens that people of color carry each and every day of their lives.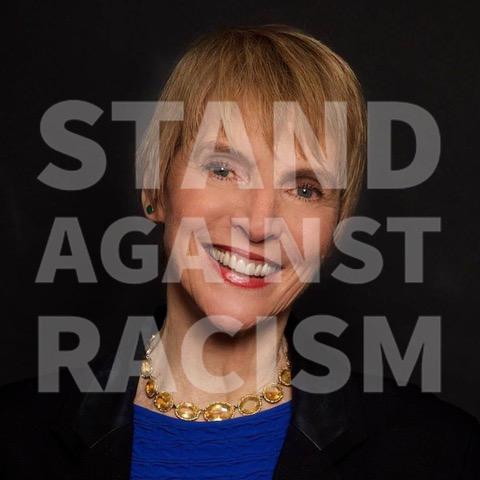 I know that as a white person, I was born with privileges unjustly denied to others. I was a little girl in the Sixties when the Reverend Dr. Martin Luther King and so many strong spiritual leaders in the Black community fought for justice and created positive change. On our family television, and in news photos, I saw the violence and hatred directed against the civil rights activists in the streets of cities like Selma, Alabama. I remember the assassination of Dr. King, Malcolm X, the Black Panther community leaders. Those were my formative years. My parents were anti-racist, anti-hate, and anti-ignorance. They were pro-civil rights, pro-human rights, pro-women's rights, and pro-LGBTQI rights — and so am I. My mother and father raised me to stand against racism and hatred in all its forms, to respect people of all races and cultures, and to have regard for each and every human being without prejudice. My father, an English professor, and a WWII veteran, taught me that because hatred is learned it can be unlearned; that hate blossoms from fear but a higher love crushes fear and hate with it.
I believe that this peaceful and dynamic protest movement is going to spark a sea change. Now is the time to heal our systemic ills. But white people need to take up this struggle. I will continue to stand against racism in every aspect of life, including contacting elected officials, voting, donating to bail funds for protesters, and learning about the many ways that white privilege causes suffering. I will continue to listen to people of color, the leaders, colleagues, mentors I am so grateful to have had contact with. Justice for all, liberty for all — we can make that a reality, even in a pandemic. We can uphold justice, dignity, and truth, even when it seems we fight against all odds. We are seeing the change wrought before our eyes.
Say their names:
Here are some of the names of Black people killed at the hands of police within the past decade.
The Guardian has a list in their series, The Counted
ERIC GARNER – JOHN CRAWFORD III – MICHAEL BROWN – EZELL FORD – DANTE PARKER – MICHELLE CUSSEAUX – LAQUAN MCDONALD – GEORGE MANN – TANISHA ANDERSON – AKAI GURLEY – TAMIR RICE – RUMAIN BRISBON – JERAME REID – MATTHEW AJIBADE – FRANK SMART – NATASHA MCKENNA TONY ROBINSON – ANTHONY HILL – MYA HALL – PHILLIP WHITE – ERIC HARRIS – WALTER SCOTT – WILLIAM CHAPMAN II – ALEXIA CHRISTIAN – BRENDON GLENN – VICTOR MANUEL LAROSA – ALTON STERLING – PHILANDO CASTILE – TERENCE CRUTCHER – PAUL O'NEAL – ALTERIA WOODS – JORDAN EDWARDS – JANET WILSON – MARY TRUXILLO – AARON BAILEY – RONELL FOSTER – STEPHON CLARK – ANTWON ROSE II – BOTHAM JEAN – PAMELA TURNER – DOMINIQUE CLAYTON – ATATIANA JEFFERSON – CHRISTOPHER WHITFIELD – CHRISTOPHER MCCORVERY – BREONNA TAYLOR – GEORGE FLOYD