Marti MacGibbon's new talk radio show, "Kickass Personal Transformation," features fascinating guests like hilarious comedienne, ghost hunter and paranormal investigator Karen Rontowski. Karen's interview aired live on January 13th, 2014, but you can listen on demand to her show on Marti's YouTube channel, and to all archives on Pure Motive Radio network's site. In 2012, Karen headlined Marti's annual charity fundraiser, Laff-Aholics Comedy Benefit for Recovery.
Karen's Bio:
From her network debut on The Late Show with David Letterman to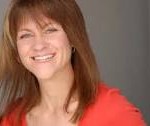 Comedy Central and Comics Unleashed, Karen's show is getting great
reviews! David Brenner says, "Even if you can't spell Karen Rontowski, you'd
better remember it, because she is GREAT!"
Ms. Rontowski describes herself as having an optimistic outlook;
everything is coming up roses when you talk to Karen. So what if her
therapist says she's in complete denial.  The truth is, when it comes to
her stand up comedy career, everything is coming up roses, or at least
laughter.  She describers herself as completely confident in her
confusion.  She never knows where she's going but she always gets
there….5 minutes late.
Comedian Karen Rontowski's  upbeat, optimistic and clean sense of
humor has earned her headlining spots all over the world.  She has also
opened for such show biz legends as Bob Hope, Ray Charles and the
Monkees.  Often described as a "New Age Hippie" Rontowski says "there
is no time like the present to be living in the past."
Here are some things we talked about on the show:
COMEDY
Get out of fear and have some fun.
Calling 911 during a comedy set at Laff-Aholics 2012 because an audience member laughed so hard he turned blue.
How a terrible event in life will make a great story.
How much time do you waste on worrying.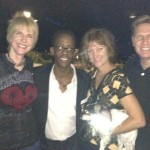 If entertaining the geriatric crown, hopefully they won't die laughing.
KICKASS PERSONAL TRANSFORMATION
Traveling with a service dog.
Stress is time consuming, two key lessons:
When we get stressed out and worried, we block the good that's coming.
You don't have to be in combat mode and go into battle all the time.
Life is accepting all the good stuff that's coming even if you can't see it yet.
Realize that good things are coming.
Meditation, and why it's so important.
Why a ghost will do the same things over-and-over in life.
ABOUT GHOSTS
Ghosts like to be entertained.
Why ghosts can't figure out technology.
Some ghosts speak another language.
If you're going to tell a ghost a joke, make sure it's from their time era or they won't get it.
Is the Comedy Store in Los Angeles haunted? And is it Sam Kinison?
What about the Comedy Store in San Diego?
Are the ghosts in the Queen Mary mean or friendly?
Why are entertainment venues haunted?
How do you hunt a ghost?
Do ghosts have vocal chords?
RECOVERY
Comedy for people in recovery.
It's hard to offend people in recovery, because they've been through everything.