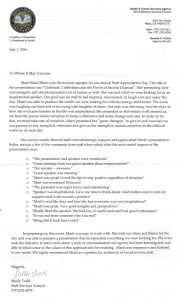 To Whom It May Concern,
Marti MacGibbon was the keynote speaker for our annual Staff Appreciation Day. The title of her presentation was "Gratitude, Celebration and the Power of Second Chances". Her presenting style was energetic and she incorporated a lot of humor as well. She was just what we were looking for in an inspirational speaker. Our goal was for staff to feel inspired, rejuvenated, to laugh a lot and enjoy the day. Marti was able to produce the results we were looking for with her energy and humor. The room was laughing out loud and even crying with laughter at times. Not only was she funny, but her story of how she overcame barriers in her life was inspirational. She reminded us that beauty is all around us, we have the power inside ourselves to make a difference and make change each day. In order to do this, we must take care of ourselves. Marti presented her "game changers" to give us real exercises we can practice to stay energized, refreshed and give us the strength to sustain ourselves in the difficult work we do each day.
Our survey results showed staff overwhelmingly enjoyed and appreciated Marti's presentation. Below are just a few of the comments from staff when asked what the most useful aspects of the presentation were.
"The presentation and speaker were wonderful."
"Great message from our guest speaker about empowerment"
"The speaker – awesome"
"Guest speaker was amazing"
"Marti was great! Loved the tips to stay positive regardless of situation"
"Mart was awesome! Wooooo!!
"The presenter was super funny and entertaining"
"Speaker was inspirational. Gave me time to think about what matters and to turn my negative and work toward a positive"
"Marti's real life story and how she has overcome was very inspirational"
"Marti was great. Very good insights and perspectives."
"Really liked the speaker. She had lots of useful tools and had great enthusiasm"
"It was real from someone who was real"
"Bring Marti back [next year]"
In preparing for this event, Marti was easy to work with. She took our ideas and theme for the day and was able to prepare a presentation that incorporated everything we were looking for. She even took the initiative to learn more about a style of communication our agency has been learning and was able to blend some of the values of this approach into her training. Marti was responsive and listened to our needs. We highly recommend Marti as a speaker for audiences of social services staff.
Regards,
Shelly Todd
Staff Services Analyst
(707) 253-4078
Staff Services Analyst
Health & Human Services Agency
Napa County, California