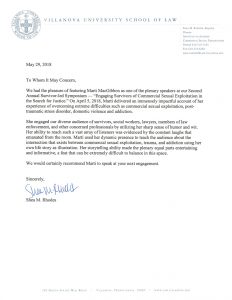 To Whom It May Concern,
We had the pleasure of featuring Marti MacGibbon as one of the plenary speakers at our Second Annual Survivor-led Symposium – "Engaging Survivors of Commercial Sexual Exploitation in the Search for Justice." On April 5, 2018, Marti delivered an immensely impactful account of her experience of overcoming extreme difficulties such as commercial sexual exploitation, post traumatic stress disorder, domestic violence and addiction.
She engaged our diverse audience of survivors, social workers, lawyers, members of law enforcement, and other concerned professionals by utilizing her sharp sense of humor and wit. Her ability to reach such a vast array of listeners was evidenced by the constant laughs that emanated from the room. Marti used her dynamic presence to teach the audience about the intersection that exists between commercial sexual exploitation, trauma, and addiction using her own life story as illustration. Her storytelling ability made the plenary equal parts entertaining and informative, a feat that can be extremely difficult to balance in this space.
We would certainly recommend Marti to speak at your next engagement.
Sincerely,
Shea M. Rhodes
Director
Villanova University School of Law