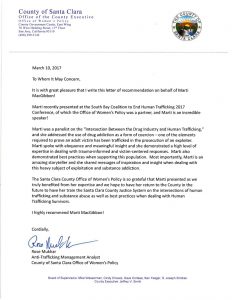 To Whom lt May Concern,
It is with great pleasure that I write this letter of recommendation on behalf of Marti MacGibbon! Marti recently presented at the South Bay Coalition to End Human Trafficking 2017 Conference, of which the Office of Women's Policy was a partner and Marti is an incredible speaker!
Marti was a panelist on the "Intersection Between the Drug Industry and Human Trafficking," and she addressed the use of drug addiction as a form of coercion – one of the elements required to prove an adult victim has been trafficked in the prosecution of an exploiter. Marti spoke with eloquence and meaningful insight and she demonstrated a high level of expertise in dealing with trauma-informed and victim-centered responses. Marti also demonstrated best practices when supporting this population. Most importantly, Marti is an amazing storyteller and she shared messages of inspiration and insight when dealing with this heavy subject of exploitation and substance addiction.
The Santa Clara County Office of Women's Policy is so grateful that Marti presented as we truly benefited from her expertise and we hope to have her return to the County in the future to have her train the Santa Clara County Justice System on the intersections of human trafficking and substance abuse as well as best practices when dealing with Human
Trafficking Survivors.
I highly recommend Marti MacGibbon!
Cordially,
Rose Mukhar
Anti-Trafficking Management Analyst
County of Santa Clara Office of Women's Policy
Anti-Trafficking Management Analyst
County of Santa Clara Office of Women's Policy
California