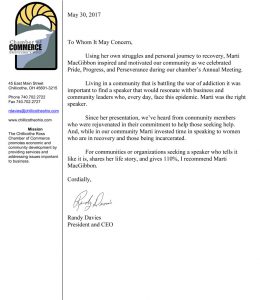 To Whom It May Concern,
Using her own struggles and personal journey to recovery, Marti MacGibbon inspired and motivated our community as we celebrated Pride, Progress, and Perseverance during our chamber's Annual Meeting.
Living in a community that is battling the war of addiction it was important to find a speaker that would resonate with business and community leaders who, every day, face this epidemic. Marti was the right speaker.
Since her presentation, we've heard from community members who were rejuvenated in their commitment to help those seeking help. And, while in our community Marti invested time in speaking to women who are in recovery and those being incarcerated.
For communities or organizations seeking a speaker who tells it like it is, shares her life story, and gives 110%, I recommend Marti MacGibbon.
Cordially,
Randy Davies
President and CEO
President and CEO
Chamber of Commerce
Chillicothe, OH