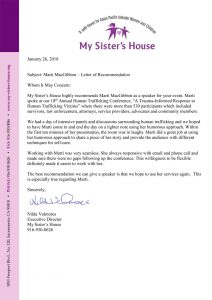 Whom It May Concern:
My Sister's House highly recommends Marti MacGibbon as a speaker for your event. Marti spoke at our 10th Annual Human Trafficking Conference, "A Trauma-Informed Response to Human Trafficking Victims" where there were more than 530 participants which included survivors, law enforcement, attorneys, service providers, advocates and community members.
We had a day of intensive panels and discussions surrounding human trafficking and we hoped to have Marti come in and end the day on a lighter note using her humorous approach. Within the first ten minutes of her presentation, the room was in laughs. Marti did a great job at using her humorous approach to share a piece of her story and provide the audience with different techniques for self-care.
Working with Marti was very seamless. She always responsive with email and phone call and made sure there were no gaps following up the conference. This willingness to be flexible definitely made it easier to work with her.
The best recommendation we can give a speaker is that we hope to use her services again. This is especially true regarding Marti.
Sincerely,
Nilda Valmores
Executive Director, My Sister's House
Executive Director
My Sister's House
Sacramento, CA