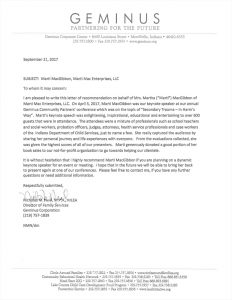 To whom it may concern:
I am pleased to write this letter of recommendation on behalf of Mrs. Martha ("Marti") MacGibbon of Marti Mac Enterprises, LLC. On AprilS, 2017, Marti MacGibbon was our keynote speaker at our annual Geminus Community Partners' conference which was on the topic of "Secondary Trauma -In Harm's Way". Marti's keynote speech was enlightening, inspirational, educational and entertaining to over 600 guests that were in attendance. The attendees were a mixture of professionals such as school teachers and social workers, probation officers, judges, attorneys, health service professionals and case workers of the Indiana Department of Child Services, just to name a few. She really captured the audience by sharing her personal journey and life experiences with everyone. From the evaluations collected, she was given the highest scores of all of our presenters. Marti generously donated a good portion of her book sales to our not-for-profit organization to go towards helping our clientele.
It is without hesitation that I highly recommend Marti MacGibbon if you are planning on a dynamic keynote speaker for an event or meeting. I hope that in the future we will be able to bring her back to present again at one of our conferences. Please feel free to contact me, If you have any further questions or need additional information.
Respectfully submitted,
Nicholas M. Neal, M.P.A., MLEA
Director of Family Services
Geminus Corporation
Director of Family Services
Geminus Corporation
Merrillville, Indiana