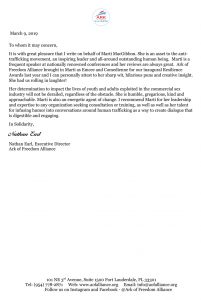 To whom it may concern,
It is with great pleasure that I write on behalf of Marti MacGibbon. She is an asset to the anti-trafficking movement, an inspiring leader and all-around outstanding human being. Marti is a frequent speaker at nationally renowned conferences and her reviews are always great. Ark of Freedom Alliance brought in Marti as Emcee and Comedienne for our inaugural Resilience Awards last year and I can personally attest to her sharp wit, hilarious puns and creative insight. She had us rolling in laughter!
Her determination to impact the lives of youth and adults exploited in the commercial sex industry will not be derailed, regardless of the obstacle. She is humble, gregarious, kind and approachable. Marti is also an energetic agent of change. I recommend Marti for her leadership and expertise to any organization seeking consultation or training, as well as well as her talent for infusing humor into conversations around human trafficking as a way to create dialogue that is digestible and engaging.
In Solidarity,
Nathan Earl, Executive Director
Ark of Freedom Alliance
Executive Director
Ark of Freedom Alliance