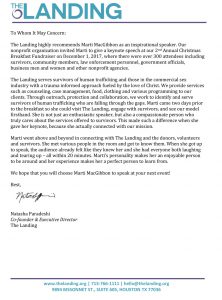 To Whom It May Concern:
The Landing highly recommends Marti MacGibbon as an inspirational speaker. Our nonprofit organization invited Marti to give a keynote speech at our 2nd Annual Christmas Breakfast Fundraiser on December 1, 2017, where there were over 300 attendees including survivors, community members, law enforcement personnel, government officials, business men and women and other nonprofit agencies.
The Landing serves survivors of human trafficking and those in the commercial sex industry with a trauma informed approach fueled by the love of Christ. We provide services such as counseling, case management, food, clothing and various programming to our clients. Through outreach, protection and collaboration, we work to identify and serve survivors of human trafficking who are falling through the gaps. Marti came two days prior to the breakfast so she could visit The Landing, engage with survivors, and see our model firsthand. She is not just an enthusiastic speaker, but also a compassionate person who truly cares about the services offered to survivors. This made such a difference when she gave her keynote, because she actually connected with our mission.
Marti went above and beyond in connecting with The Landing and the donors, volunteers and survivors. She met various people in the room and got to know them. When she got up to speak, the audience already felt like they knew her and she had everyone both laughing and tearing up – all within 20 minutes. Marti's personality makes her an enjoyable person to be around and her experience makes her a perfect person to learn from.
We hope that you will choose Marti MacGibbon to speak at your next event!
Best,
Natasha Paradeshi
Co-founder & Executive Director
The Landing
Co-founder & Executive Director
The Landing
Houston, TX