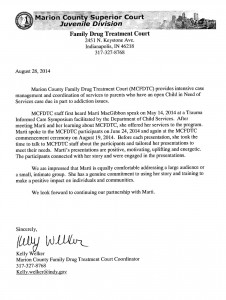 Marion County Family Drug Treatment Court (MCFDTC) provides intensive case management and coordination of services to parents who have an open Child in Need of Services case due in part to addiction issues.
MCFDTC staff first heard Marti MacGibbon speak on May 14, 2014 at a Trauma Informed Care Symposium facilitated by the Department of Child Services. After meeting Marti and her learning about MCFDTC, she offered her services to the program. Marti spoke to the MCFDTC participants on June 24, 2014 and again at the MCFDTC commencement ceremony on August 19,2014. Before each presentation, she took the time to talk to MCFDTC staff about the participants and tailored her presentations to meet their needs. Marti's presentations are positive, motivating, uplifting and energetic. The participants connected with her story and were engaged in the presentations.
We are impressed that Marti is equally comfortable addressing a large audience or a small, intimate group. She has a genuine commitment to using her story and training to make a positive impact on individuals and communities.
We look forward to continuing our partnership with Marti.
Coordinator
Marion County Family Drug Treatment Court