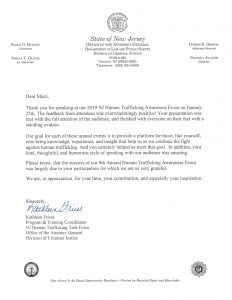 Dear Marti,
Thank you for speaking at our 2019 NJ Human Trafficking Awareness Event on January 25th. The feedback from attendees was overwhelmingly positive! Your presentation was met with the full attention of the audience, and finished with everyone on their feet with a standing ovation.
Our goal for each of these annual events is to provide a platform for those, like yourself, who bring knowledge, experience, and insight that help us as we continue the fight against human trafficking. And you certainly helped us meet that goal. In addition, your kind, thoughtful, and humorous style of speaking with our audience was amazing.
Please know, that the success of our 9th Annual Human Trafficking Awareness Event was largely due to your participation for which we are so very grateful.
We are, in appreciation, for your time, your contribution, and especially your inspiration.
Sincerely,
Kathleen Friess
Program & Training Coordinator
NJ Human Trafficking Task Force
Office of the Attorney General
Division of Criminal Justice
Program & Training Coordinator, NJ Human Trafficking Task Force
Office of the Attorney General, Division of Criminal Justice