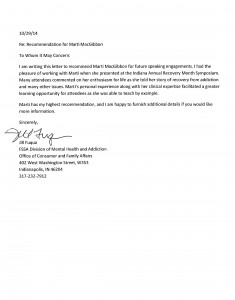 To Whom It May Concern:
I am writing this letter to recommend Marti MacGibbon for future speaking engagements. I had the pleasure of working with Marti when she presented at the Indiana Annual Recovery Month Symposium. Many attendees commented on her enthusiasm for life as she told her story of recovery from addiction and many other issues. Marti's personal experience along with her clinical expertise facilitated a greater learning opportunity for attendees as she was able to teach by example.
Marti has my highest recommendation, and I am happy to furnish additional details if you would like more information.
Office of Consumer and Family Affairs
FSSA Division of Mental Health and Addiction