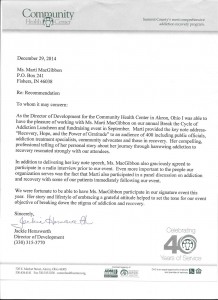 As the Director of Development for the Community Health Center in Akron, Ohio I was able to have the pleasure of working with Ms. Marti MacGibbon on our annual Break the Cycle of Addiction Luncheon and fundraising event in September. Marti provided the key note address "Recovery, Hope, and the Power of Gratitude" to an audience of 400 including public officials, addiction treatment specialists, community advocates and those in recovery. Her compelling, professional telling of her personal story about her journey through harrowing addiction to recovery resonated strongly with our attendees.
In addition to delivering her key note speech, Ms. MacGibbon also graciously agreed to participate in a radio interview prior to our event. Even more important to the people our organization serves was the fact that Marti also participated in a panel discussion on addiction and recovery with some of our patients immediately following our event.
We were fortunate to be able to have Ms. MacGibbon participate in our signature event this year. Her story and lifestyle of embracing a grateful attitude helped to set the tone for our event objective of breaking down the stigma of addiction and recovery.
Director of Development
Community Health Center