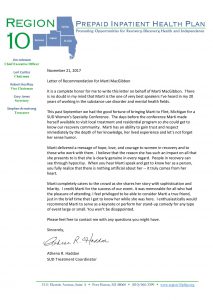 It is a complete honor for me to write this letter on behalf of Marti MacGibbon. There is no doubt in my mind that Marti is the one of very best speakers I've heard in my 20
years of working in the substance use disorder and mental health fields.
This past September we had the good fortune of bringing Marti to Flint, Michigan for a SUD Women's Specialty Conference. The days before the conference Marti made herself available to visit local treatment and residential program so she could get to know our recovery community. Marti has an ability to gain trust and respect immediately by the depth of her knowledge, her lived experience and let's not forget her sense humor.
Marti delivered a message of hope, love, and courage to women in recovery and to those who work with them. I believe that the reason she has such an impact on all that she presents to is that she is clearly genuine in every regard. People in recovery can see through hypocrisy. When you hear Marti speak and get to know her as a person, you fully realize that there is nothing artificial about her — it truly comes from her heart.
Marti completely caters to the crowd as she shares her story with sophistication and hilarity. I credit Marti for the success of our event. It was memorable for all who had the pleasure of attending. I feel privileged to be able to consider Marti a true friend, just in the brief time that I got to know her while she was here. I enthusiastically would
recommend Marti to serve as a keynote or perform her stand-up comedy for any type of event large or small. You won't be disappointed.
Please feel free to contact me with any questions you might have.
Sincerely,
Athena R. Haddon
SUD Treatment Coordinator
SUD Treatment Coordinator
Region 10 Prepaid Inpatient Health Plan
Flint, MI