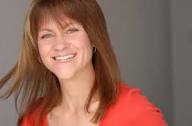 Karen Rontowski is guest on Marti MacGibbon's Kickass Personal Transformation.
Karen's network debut was on "The Late Show With David Letterman" and she has also been on Comedy Central & Comics Unleashed.
A television favorite, you may have seen this hilarious woman on Comedy Central,  Live at Gotham and Comics Unleashed.  A regular on the Bob and Tom Radio Show, Karen keeps listeners laughing not only with her stand up, but also when she talks about her other career as a paranormal investigator.
---
From her network debut on The Late Show with David Letterman to Comedy Central and Comics Unleashed, Karen's show is getting great reviews! David Brenner says, "Even if you can't spell Karen Rontowski, you'd better remember it, because she is GREAT!"
Ms. Rontowski describes herself as having an optimistic outlook; everything is coming up roses when you talk to Karen. So what if her therapist says she's in complete denial.  The truth is, when it comes to her stand up comedy career, everything is coming up roses, or at least laughter.  She describers herself as completely confident in her confusion.  She never knows where she's going but she always gets there….5 minutes late.
Comedian Karen Rontowski's  upbeat, optimistic and clean sense of humor has earned her headlining spots all over the world.  She has also opened for such show biz legends as Bob Hope, Ray Charles and the Monkees.  Often described as a "New Age Hippie" Rontowski says "there is no time like the present to be living in the past."
---
December 30, 2013 – Download MP3 – 14.5MB