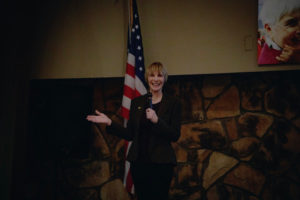 Marti MacGibbon delivered a deeply moving and inspirational presentation on "Human Trafficking: A Global Tragedy" at Sts. Joachim and Ann Care Service's Social Justice in Action annual event, which celebrates and honors the legacy of Dr. Martin Luther King Junior.
The evening's event was entitled, "Human Trafficking: A Global Tragedy." Social Justice in Action seeks to foster awareness of injustice in the public eye through educational and legislative presentations. Audience members remarked on Marti's skill in illuminating and informing the audience, and telling her personal story in a way that brings hope and even light humor — a testament to the resilience and courage of all survivors. The evening's program included a university choral group, and a gorgeous solo vocal performance.
Marti signed copies of her two nationally award-winning memoirs, Never Give in to Fear and Fierce, Funny, and Female.
Lack of shelter is where human trafficking often happens. Sts. Joachim and Ann Care Service provides assistance with food, clothing, shelter and emergency services to the most vulnerable members of St. Charles, Missouri, a suburb of St. Louis.