Inspirational humorous speaker Marti MacGibbon delivered the endnote speech at the Association of California Nurse Leaders' 36th Annual Conference, "Oceans of Opportunity: The Next Wave of Nurse Leadership". The conference, held at the Portola Hotel and Spa in beautiful Monterey California, addressed the challenges and changes facing nursing teams in the coming year.
Marti's uplifting, high energy presentation affirmed, encouraged and supported nurse leaders, and provided tips on stress management and building resilience,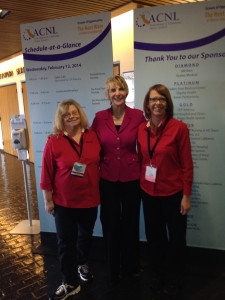 with plenty of humor. After the session ended, Marti MacGibbon signed copies of her dramatic and humorous memoir, Never Give in to Fear: Laughing All the Way Up from Rock Bottom, which has received recognition from the National Indie Excellence Awards, and praise from Kirkus Reviews, Midwest Book Review, Foreword Clarion Reviews and San Francisco Book Review.
Ms. MacGibbon is an internationally known author and an expert on trauma resolution and addiction. She has survived and triumphed over human trafficking, domestic violence, homelessness and addiction to become the success she is today. Her message is one of hope and humor, and she provides audiences with simple, practical techniques she used to turn her life around.