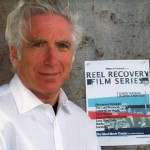 Leonard Buschel, co-founder of Writers in Treatment (WIT), was a recent guest on Pure Motive Radio Network's new show, Kickass Personal Transformation™ with Marti MacGibbon. Leonard told host Marti MacGibbon about how his non-profit organization, Writers in Treatment, connects individuals suffering from addiction and other self-destructive behaviors with treatment and recovery solutions. WIT also presents the REEL Recovery Film Festival, an inspiring and relevant event held in 8 cities that showcases both classics and contemporary films about addiction, alcoholism, behavioral disorders, treatment and recovery. Leonard Buschel also produces the Experience, Strength and Hope Awards, a sometimes star-studded celebration of the clean and sober lifestyle, and the value of humor in the recovery process. All proceeds from the event go to WIT's Jewelle Sturm Scholarship Fund.
A resident of Los Angeles and a former substance abuse counselor, Mr. Buschel created Writers in Treatment with the purpose of supporting and empowering creative, talented individuals who suffer from chemical dependency and are looking for a way to recover and build a new life. His attitude is very positive, and he's passionate about what he does. In the interview, Leonard shared insights into recovery, quotes from a few of his favorite writers, and uplifting stories about past Reel Recovery Fests and E., S. and H. Awards. Listen to the podcast in Pure Motive Radio archives — Leonard and his projects are both fascinating and inspiring!
This year's Experience, Strength and Hope Award is scheduled for February 13th, 2014, and the award recipient is author and "hairstylist to the stars" Carrie White. Carrie will be Marti's guest on Kickass Personal Transformation™ February 3rd, discussing her memoir, Upper Cut.