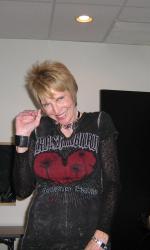 Kickass Personal Transformation is my term for the uplifting and energetic process that creates positive changes in life. KPT is progress, self-discovery, adaptability and optimism, and it always involves positive risk. The past month for me has been uber busy, working on the second annual Laff-aholics Comedy Benefit for Recovery, (Sept. 15th, 2012 at the IMA) and preparing for the upcoming release of my book, Never Give in to Fear: Laughing All the Way Up From Rock Bottom, on Oct. 8th, 2012. And during the past month I've been thinking a lot about calculated risk and positive vs. negative risk-taking.
I'm a recovering addict and alcoholic, so I know about negative risk-taking and its consequences! Negative risk-taking is impulse-based and emotionally driven; addicitive behavior to the nth degree. And like many people in recovery, my story makes for some heartbreaking yet hilarious reading, which is why I wrote the memoir. Writing the book involved risk — positive, calculated risk, and years of work. But the process sparked a new dimension of self-discovery for me, and helped me to heal on a deeper emotional level, and to develop new skills.
Positive risk pays off! Never hang back from a new prospect or goal because you're afraid of what might go wrong. Make a bold, calculated risk. Engage in goal setting, plan your moves, and keep your eyes on the prize. As you move toward your goal, you'll be delighted at the side benefits, that is, the things you learn, friends you make, and truths you discover along the way.
As a standup comic with years of professional experience, I'm well acquainted with the thrill and fun of positive risk! In standup, taking risks onstage adds dynamic energy to your act, and the audience responds. Standup comedy is always a rush. I like to think of it as extreme sports for uncoordinated people.
But it wasn't until last year, when I produced, performed in, and hosted Laff-aholics 2011, that I experienced the risks and rewards of involved with bringing a major event to a successful outcome. We packed the 530-seat auditorium, put on a top notch performance and raised a significant amount of money for our beneficiaries, non-profit organizations that provide transitional housing and access to treatment services for recovering addicts and alcoholics.
This year's Laff-aholics proved to be no different than the first one. Despite the obvious financial risk of renting a non-refundable venue, the six member Laff-aholics committee faced the daunting task of promoting the show primarily through grassroots, word-of-mouth channels. Brenda Brown of Clear Channel Communications generously assisted us with some PR and PSA announcements on radio, and thanks to her kindness, we sold out all seats two days in advance!
All progress, all growth, involves positive risk-taking. Stretching outside your comfort zone is always scary, but the rewards and benefits of doing so will thrill you if you stay the course. Examine all your motives, all your misgivings carefully, and once you determine that your risk is calculated and positive, power on through to your goal. Be unswerving and bold, and do not allow yourself to second-guess or judge your decision to grow and learn. As you advance, take time to appreciate, and to learn from, the people and resources you discover along the journey. Believe in yourself, your purpose, and the benefits you will be able to share with your community. You'll never, ever regret it.