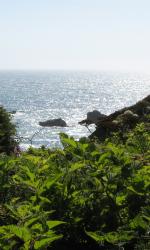 Relentlessness. Tenacity. Doggedness. All are aspects of mindful badassitude — a throwdown, no-holds-barred pursuit of happiness, success, and fulfillment of goals and dreams. Some days, life caresses me like a tropical breeze, ruffling my hair and soothing my skin as I make snap decisions, pleasant phone calls, and unexpected opportunities. Other days, life dishes out tough love, battering me like a typhoon, tossing my self-assurance on the rough seas of opposition, rejection, and self-doubt. Still, I'm never swept off the deck, because I've got my sea legs — my relentless pursuit of my goals and dreams, my badassitude!
The past few months have been intense. In December, I got hit with a resurgence of repetitive stress injuries — in both arms, carpal and ulnar. Although I declined surgery and still do, I'd made considerable improvement since the initial injury back in 2008, and thought I could keyboard all day long. Turns out, that's too much, and I had to drop back to minimal keyboarding. I'm back on the healing path, taking it easy. Life is fabulous as long as I'm mindful.
In early January, my husband, Chris, received a diagnosis of cancer. He opted for surgery, on April 2, and came through like a champ, and now is progressing well. Recently, his doctor delivered good news — turns out Chris won't have to do radiation at this point, since all scans indicate the surgery got it all. I am so grateful for this — I get to spend some more time with him, and that's something to celebrate each moment.
Chris is my husband, but he's also my true love, my hero, my best friend. During the past few months' challenges, he reminded me that we've whipped bigger things, and then we'd laugh and take encouragement from the past. We've been partners in many endeavors and comrades in arms in our share of battles.
Since July 10th, 1987, we've stuck together. When we met, we were both outlaws, renegades, rebels, you might say, and our challenges differed greatly from the ones we face today. He was a biker, and I suffered from post traumatic stress disorder. I'd been trafficked to organized crime figures in Tokyo, been brutalized, then escaped and returned to California. We both were trekking through the underworld, the drug scene. We recovered from addiction together and began the badass labor of love — changing our lives one day at a time.
Mindfulness meditation, mantras, and visualization are all tools we use in our action plan, and they help us to navigate the seas of life and work. You truly can cultivate your resilience, relentlessness, and life purpose. Look back at how far you're come. Try doing this each day, and appreciate all you're survived, conquered, celebrated, achieved. Remember your high points, triumphs, and accomplishments. But also allow yourself to recall — and appreciate your stuck points, slow days, rough goings, failures and rejections. If you look back at your life as if it were a movie, casting yourself in the hero's lead role, then you can see that in the rough spots, the darkest hours, the hero rallies, latches onto inspiration, or fights through to victory.
I'm still in a rough spot right now, but I believe in the power of transformative badassitude. I'm staying the course, one day at a time. And one day at a time, I'm relentless…in a mindfulness meditative kinda way!