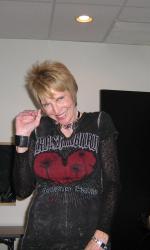 Kickass personal transformation is possible — one day at a time! Any personal goal, dream or vision eventually materializes when you apply yourself daily, using transformative principles. Here are three examples of transformative principles which in turn unleash powerful forces in your life that turbo-charge your efforts:
1. Honesty is essential. When you're honest with yourself about what you want to change or accomplish, you set more doable, measurable goals. Sit down with a pen and paper and jot down where you want to be in your life, for instance, you want better physical fitness and a leaner, more muscular body. Honesty applied here helps you to look carefully at your eating habits, how much exercise you're getting daily, and helps you to realize you need to consult a professional trainer, join a gym, or see a doctor before building your plan. After you get rolling, be honest about whether or not you are applying yourself day by day. If you slip, apply the concept of daily renewal, and get back on the program.
2. Gratitude kicks butt in every way imaginable when striving for personal transformation. A gratitude list, done in your head in a given moment, will uplift you and give you the power to meet the demands of your program. Recovering alcoholics and addicts know that gratitude is the kickass attitude that can change your mental, emotional, and even physical state in moments. When maintained throughout the day, it's like a massive power generator, churning out consciousness of more and more things to be grateful for. Expressing gratitude is contagious — it instills with the desire to 'pay it forward'. So if you're trying to get in shape and eat better, gratitude can get you there.
3. Forgiveness is an often overlooked and dynamic process. When you apply forgiveness both to yourself and others, you enter into a sphere of light, release, and happiness. So often we accumulate and carry a heavy burden made up of thousands of little everyday grudges, resentments, and perceived slights. It may be something as tiny as someone taking "your" parking spot, and if it's not cleared away, it takes on an energy and attitude all its own. Soon you find you are piling other grievances on top of that one, and maybe even get angry with yourself for your bad mood. Apply forgiveness daily, in all situations, and you'll see your stress level drop, your heart open up, and your life become more serene.
These are only three of many different forces which empower a person to a real change and progress. Applied daily, layer upon layer, they build a strong foundation for total kickass, badass personal transfomation. Why delay? Get out there and kick some ass today!