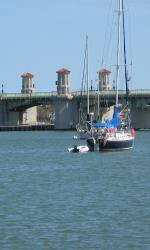 When I speak at events to raise awareness about human trafficking, visiting churches and universities, I often converse with audience members who are amazed that trafficking occurs in the U.S. I always emphasize that this heinous crime is committed within our borders – frequently.
Yesterday a man named Francisco Domingo, in Immokalee, Florida was charged with human trafficking. He is accused of holding teen girls hostage, making them pose for nude photos and forcing them to perform sex acts on video.
One sixteen year old victim's account is horrifying — the girl was brought into the U.S. illegally from Guatemala in 2008. Authorities report she was held against her will, and that Domingo was taking the wages she received for working in the farm fields. This alone is extreme cruelty, in my opinion, but court documents further state that Domingo regularly forced the girl to have sex with several men while he videotaped it. The child victim testified that this happened several times a week.
http://www.nbc-2.com/Global/story.asp?S=12078782
The above story is an example of international trafficking. Let's not ever forget the outrage of domestic trafficking, which is going on twenty-four hours a day, seven days a week in the U.S., in both urban and rural areas. Last month a story appeared in the Topeka, Kansas news: a child put too much information on her Facebook page and ended up being snatched by a 50-year-old man, trafficked to several cities and sold for sex, finally landing in Chicago, where she was turned out onto the streets and prostituted.
http://www.ktka.com/news/2010/feb/27/kansas-children-being-sold-sex-slaves/?topeka_news
In spite of all the progress we have made in educating the public about the violence and misery inflicted on victims of domestic sex trafficking, a number of stereotypes about the sex trade still prevail in the American psyche. There is nothing glamourous about being an "escort;" it's dangerous, dehumanizing and incredibly stressful. Sex workers are preyed upon, threatened, often literally tortured by their pimps or handlers. The average age of entry into prostitution in the U.S. is thirteen, and a great majority of these children are vulnerable because they have been previously sexually abused or physically abused. This is not a "Pretty Woman" movie with a phony Cinderella ending. This is a vicious reality.
One way to eradicate this problem is to approach it from the demand side – target the johns, the customers who solicit sex, and offer an education program to rehabilitate them, in this way reducing the demand and confounded the traffickers where it hurts them – financially. This has been done very successfully in the city of San Francisco, by an organization called SAGE – Standing Against Global Exploitation. This approach of SAGE's really gets results, as compared to the old way of prosecuting the victims of commercial sexual exploitaiton and cycling them through the criminal justice system. Since its founding in 1995, SAGE project has saved the city of San Francisco 4.5 million dollars.
http://www.sagesf.org/
I am grateful that the U.S. Department of Justice and the FBI are giving human trafficking a high priority. And I am equally grateful for the numerous grass roots organizations formed by dedicated American citizens who are fighting to abolish modern day slavery.